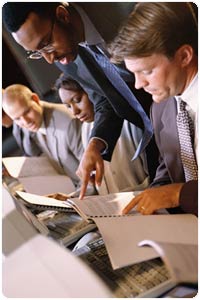 If you need a course on a different date or time than the public offering, or if you need an instructor-led course delivered for your organization, we can provide a private training option. InterSource offers onsite training throughout Europe, with most delivery involving customization of content, language or both, to meet client requirements.
To Purchasing Onsite Training

Contact us regarding your requirements. We will ask questions aimed at understanding your exact needs.
Review a Detailed Outline: we will present you with an outline detailing exactly what will be covered in your course and a proposal detailing the cost of the training.
Purchase Training: if your experience has been good so far, the outline matches your need and the price is right, then sign the proposal and we can schedule the training.

Delivery Locations: Our private classes are normally delivered at your offices, but can be delivered at a different location of your choice, at the InterSource Training Center

near the Geneva airport, or via a web conference (a good option for geographically dispersed groups).
Class size: Generally, an organization will need to have at least four students in a class for it to be cost effective to bring an InterSource trainer onsite.