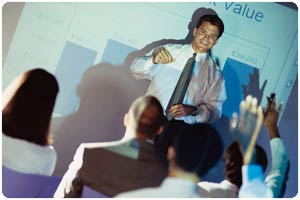 Public classes are regularly scheduled classes with students from multiple client organizations. Please note that standard public classes take place from 10 am to 5 pm United States Eastern Standard Time (EST = New York). For alternative time slots, and for onsite training, select the course, then complete the form. Here's how the standard online courses work:
After registering, students receive an email directing them to a website for login at class time. All class materials, including the workbook, course exercises and the microphone headset, are sent by mail prior to class.
Students are advised of what programs they will need to have installed prior to the beginning of the course.
During the course, students can hear and ask questions of the instructor and see the instructor's presentation on their own computers.